Vitamin B12
Vitamin B12 is extremely important for brain function, red blood cells, nerve function and skin health. Without sufficient vitamin B12 levels, skin becomes thin and wrinkles accumulate. It helps to make sure skin looks youthful and firm and also aids in keeping skin elastic.
Folate
Folic acid is necessary for many bodily systems including skin and hair formation. Its deficiency causes scaly skin, dryness, and even rough patches on the arms and legs. Folic acid's deficiency can also cause memory loss and increased risk of heart disease.
Vitamin A
Vitamin A's role in skin includes proper skin cell structure and functioning. Lack of vitamin A results in aging skin due to diminished collagen production. It(Retinol) is an antioxidant that helps maintain cell membrane integrity, reduces inflammation, and promotes wound healing.
Iron
Iron helps to produce hemoglobin, the protein that carries oxygen around the body. Anemia occurs when iron levels become low and a person lacks enough hemoglobin to carry oxygen. Low levels of iron can lead to fatigue, weakness, pale skin, and poor circulation. In addition, iron deficiency can affect your immune system and contribute to infertility in women.
Zinc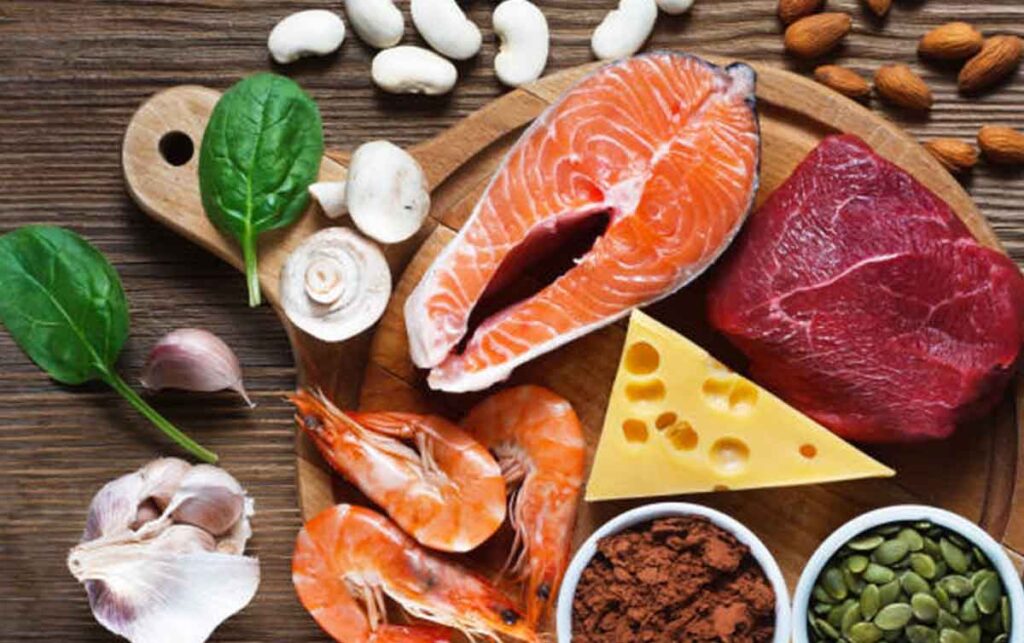 Zinc is an essential trace mineral for the maintenance of healthy skin and aids in wound healing and DNA synthesis. It regulates the production of testosterone hormone and helps eliminate toxins from the blood stream.. When zinc intake is lower than recommended daily allowances (RDA), skin conditions like acne breakouts, pimples, oily skin, and blackheads may occur,poor hair growth, premature graying, and wrinkling of the skin.
Vitamin C
Vitamin C is a powerful antioxidant and helps protect the skin against free radical damage. It can help prevent sunburn, heal wounds, repair damaged cells, maintain collagen, and improve circulation. Many people often lack vitamin C due to a poor diet or aging. Your body requires small amounts of vitamin C throughout the day. It repairs damaged skin cells by encouraging collagen synthesis. Vitamin C is also present in many fruits and vegetables, making it easily accessible.
Vitamin B Complex
The vitamin B complex consists of several vitamins that work together to keep your immune system strong and healthy. These vitamins also help your body function at its best and may even decrease your risk of certain types of cancer. It includes thiamine (B1), riboflavin (B2), niacin (B3), pantothenic acid (B5), pyridoxine (B6), biotin (B7), folic acid (B9), cyanocobalamin (B12)—all of which are naturally occurring micronutrients that play a critical role in maintaining good health.
Vitamin E
Vitamin E is a fat-soluble vitamin that helps fight cellular damage caused by free radicals. It can even reduce inflammation associated with acne and eczema. It works as a natural moisturizer and prevents premature aging and wrinkling of the skin.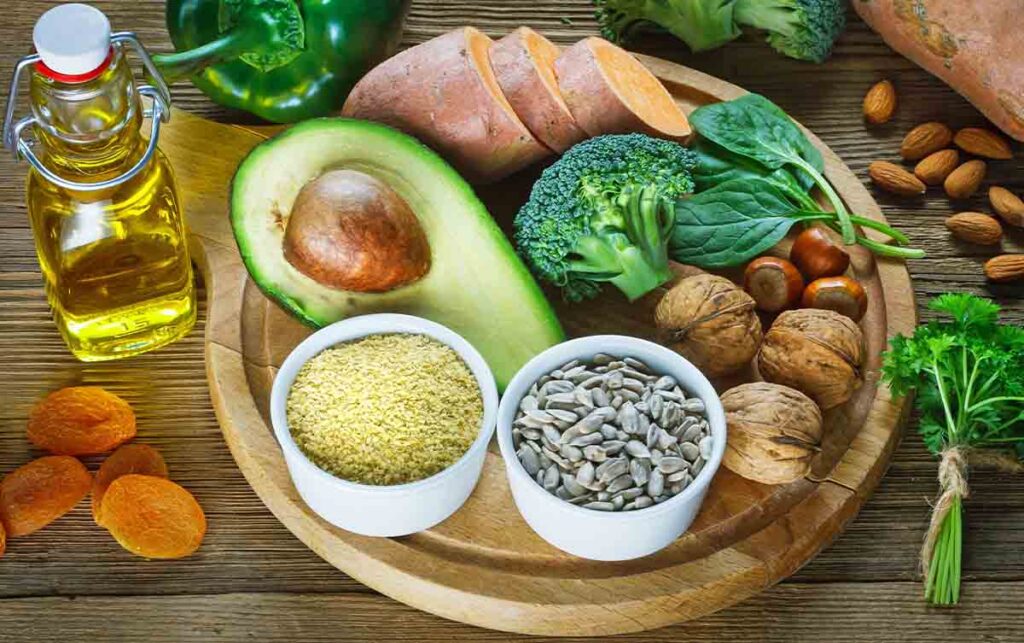 The essential fatty acid alpha-tocopherol (vit E) is necessary for normal growth and maintenance of healthy skin. It supports collagen production, which helps keep skin elastic and supple. Excess exposure to sunlight, pollutants, and free radicals causes damage to vit E levels. Low levels of vit E can result in dull looking skin, fine lines, and wrinkles.
Selenium
Selenium is an essential trace mineral and a powerful antioxidant. It's important for the production of thyroid hormones and enzymes that create red blood cells. A selenium deficiency can lead to severe hair loss, dry skin, brittle nails, muscle weakness, and fatigue. It founds in foods such as Brazil nuts, fish, seafood, eggs, meat, milk, and poultry. Selenium works together with copper and iron to produce enzymes and antioxidants that help fight cancer, heart disease, diabetes, and other degenerative conditions.
Fiber
Fiber is one of the three "macro" nutrients, along with protein and carbs, that we should eat on a daily basis. Fiber helps move food through the digestive tract and keeps us regular.
Omega 3 Fatty Acids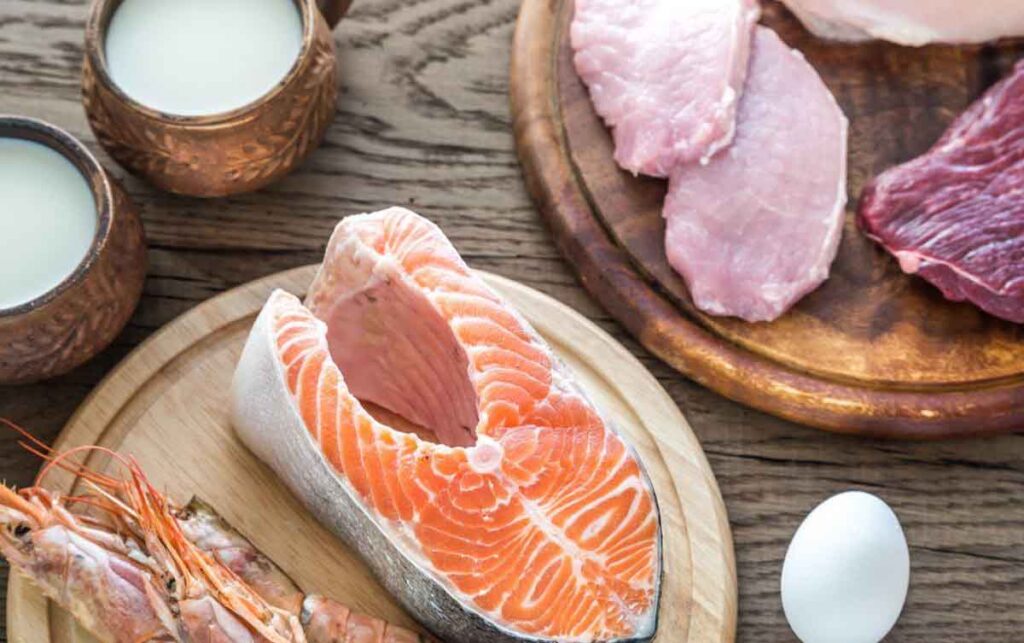 Omega 3 fatty acids are polyunsaturated fats that are vital for brain growth, vision clarity, and many bodily functions. People who don't consume enough omega 3's often suffer from depression, insomnia, anxiety, arthritis, heart disease, high cholesterol, obesity, and ADHD among others.
Vitamin K
Vitamin K is a fat soluble vitamin that is essential for blood clotting and bone formation. Vitamin K helps prevent cardiovascular disease, osteoporosis, and other disorders associated with aging.